We specialize in all forms of weddings and understand that everybodys needs are different. We cater to your needs and seek to fulfill all those needs to ensure your special day is captured the way you in-vision it. No request is out of the question. If you have a requirement, just let us know and we will make it work.
Not every bride-to-be has been dreaming of walking down the aisle in a fluffy white dress since she was a little girl. Some women just want to marry their significant other without all the pomp and circumstance — for example, the months of tedious planning, being the center of attention and hunting down that elusive bridesmaid dress that will flatter all ten attendants in your wedding party. If this rings a bell, then you're suffering from anti-bridal symptoms. Here's how to deal.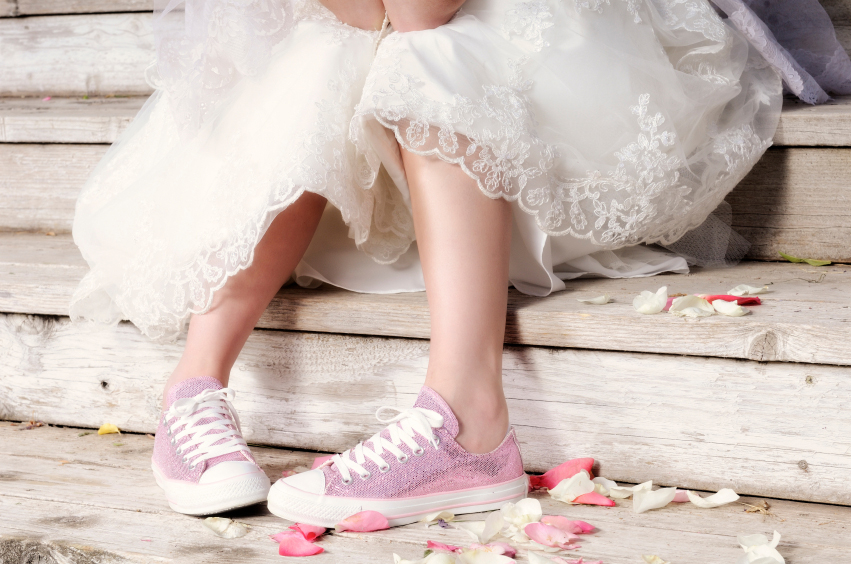 The gown
If the thought of going into a big name bridal shop and trying on traditional gowns makes you break out in hives, than you should avoid them at all costs. Channel your inner Carrie Bradshaw from Sex and the City (who did in fact break out when trying on a gown during the TV series) and pick out a simple off-the-rack outfit you will feel comfortable and attractive wearing. It doesn't have to be white. It doesn't have to be formal and it doesn't have to be designer. It's your anti-wedding, so pick out a style that suits you.
Bridesmaids
If you even choose to have bridesmaids, let them pick out their own dresses. This will not only save them some money, it will ensure that the dress they pick flatters their own body type. Everyone is happy! Even better, they really will be able to wear it again.
Bridal shower
If you don't like being the center of attention, than you will probably dread opening up all your presents in front of a room full of people at your bridal shower. People will probably buy you presents regardless, so if you can, skip the bridal shower all together.
If you can't avoid the shower, here is a suggestion, ask your guests to not wrap their presents. That way you can just display the gifts for everyone to see, thank everyone and enjoy a nice leisurely lunch mingling with your guests. Not only will this save you from having all eyes on you as you open each gift, but it will also help salvage the environment by saving all that wasted paper on your anti-style.
As far as the bachelorette party goes, consider taking advantage of this. You don't have to plan it — you just have to attend. Even that anti-bride should enjoy a girls only weekend getaway. Ask yourself, why not?
Prep time
People have been known to throw a wedding together in just a few short months, so don't think you have to waste a whole year trying to get everything planned. You don't need all the trappings — so find a decent venue that you and your hubby can live with for the reception. Ask a friend to photograph the wedding. Use your iPod if you can't find a DJ on short notice. Create your own invitations and then, just show up to say 'I do'. Since you're not too concerned about the frills, you won't have to spend forever needlessly stressing over the plans. As long as you say your "I Do's," there's not much else to worry about.
If you still want people to be impressed and have a good time, hire a wedding planner that understands your lack of desire for frills and thrills. That way, she will keep it simple and everything will stay in order.
Focus on him
The essence of being an anti-bride is that you don't get all caught up in the little things. Stay true to yourself even though most people will expect you to dive into planning every detail and will offer up a dozen bridal magazines for ideas. Whether you skip the big-to-do and slip off to Vegas or you have a low-key affair, embrace your inner anti-bride and just enjoy marrying the person you love.
Trash the dress
Another non-traditional idea is to "trash" the dress after the big day. More and more brides are opting to use their dresses creatively in a photo shoot after the wedding ceremony. They choose a setting that destroys the wedding dress as the newleyweds take an adventure together. Check out this example:
More non-traditional wedding ideas
If diamonds aren't a girl's best friend…
Think your engagement ring options are limited to diamonds? Think again. It's your finger, and you can decorate it with diamonds or pearls for all we care. In fact, diamonds did not become popular as engagement rings until the 1940s. They may not be the long-lived tradition that many assume the shiny stone is. Let's explore some other equally-sparkly options for your engagement ring.

Colored gemstones
A gorgeous round, blue sapphire in an antique pave diamond setting. Different? Yes. Non-traditional? Not really. A colored gemstone was the engagement ring of choice for most of the 18th and 19th centuries. In England, The Queen Mother, Queen Elizabeth, Princess Anne and Princess Diana were all proposed to with sapphire engagement rings when their princes popped the question. Sapphires symbolize sincerity and faithfulness. Just recently Prince William passed down Diana's ring to Kate Middleton. So while celebs these days are showing off diamonds that are larger than life, many women still prefer the timeless touch of colored gemstones to symbolize their lasting love.
Your birthstone or another favorite rock can make for a beautiful and meaningful bauble, too. Rubies symbolize passionate love, while emeralds mean life, beauty and constant love. Pearls stand for rare and precious love — the stunning purple-blue hue of the tanzanite is a perfect complement to an independent, confident woman. Remember, good quality colored gemstones are actually more rare than diamonds, making your ring even more precious.
Setting your options
A platinum Tiffany setting is beautiful, but not very original. If you're craving something different, investigate some other unique options. Anything goes when it's your ring.
An anniversary band is a banded ring set with multiple stones embedded all the way around, sometimes just halfway. It can be set with any stone you prefer and can double as your wedding ring if you wish.
A halo setting surrounds a round center stone with a circle of other tiny gemstones. These can be the same as your center stone or it can a contrasting gem.
An antique setting will bring a retro, unique look to your wedding set. Settings like these, often in lovely metals such as rose gold, white gold or sterling silver, can be found at estate jewelers, eBay or the jewelry boxes of your mother and grandmother. It doesn't get more classic than that.
Eco-friendly rings
It's no secret that mining stones and metal often is extremely destructive to the earth. If you want a shiny bauble but are concerned about staying green, check out some ethical engagement rings. Such pieces use metals and stones that are mined in a socially and environmentally responsible manner. Brilliant Earth and Green Karat are two suppliers of such green beauties. Another option is to use a family heirloom, have a favorite stone reset and use recycled metals.
Go Stoneless
If sparkly and flashy are not your style and simplicity is the word of the day, there's no rule that says you must have a stone. If you want a ring without the flash, go for a band with an intricate engraving, weaving, braid or twist — or just smooth, satiny gold. Wear it as both your engagement and wedding ring.
No matter what you choose, your engagement ring should be as special and unique as you are. You will wear it for the rest of your life, so make sure you love it and it speaks to who you are and what your relationship means to you.
More on non-traditional weddings
Fresh thinking on wedding florals
For many people a table just isn't set without a gorgeous floral centerpiece, and a bride isn't a bride without a beautiful bouquet. But, at OneWed.com we've been seeing some gorgeous alternatives to using live flowers for both centerpieces and bouquets. Some people choose alternatives because of allergies, for environmental reasons, others as a cost saving measure, and some people just love the idea of something so original.

Brooch Bouquets
Over the past few months, brooch bouquets have quickly become the talk of the Internet! These charming bouquets made from recycled jewelry (or seashells or other found objects) have an elegant retro feel. Because they're made from repurposed items and last forever, brooch bouquets are definitely eco-friendly. They can also be budget friendly, you can find versions priced from $100 to $500, but unlike floral bouquets, brooch bouquets can become a sentimental and valuable decoration for your home, or used by another bride. The look of the bouquets can range from this charming seashell bouquet (above) with matching boutonniere, from the Romantic Flowers Shop on Etsy perfect for a destination wedding, to this stark and elegant crystal bouquet (below) available from the OneWed.com store.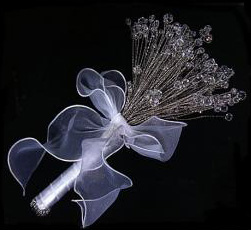 Get Religion
Many religious brides choose to carry a family bible or Rosary beads in place of a floral bouquet (Melania Trump used a Rosary for her wedding). If these items hold meaning for you, carrying one can bring powerful symbolism to your ceremony. An old Irish custom has the bride carry a horseshoe for good luck. That same horseshoe can then be hung over the door to the couple's house.
Fruits and Vegetables
Want to save money on your florist bill? Consider replacing traditional centerpieces with bowls or baskets filled with beautiful in season fruits or decorative vegetables (like artichokes). After the reception the fruits can be donated to a food pantry, or taken home by guests. This is an especially good idea for a DIY bride. Too often brides assume they can do their own flowers the day of the wedding. However, this plan fails to take into account the amount of time creating a floral arrangement takes (and how hard it is on a manicure). Floral arrangements have to be created the day of to ensure that they look fresh. If you're considering being your own florist, reducing the amount of flowers you actually use will save you much-needed time. Other centerpiece alternatives include candles and small glass bowls of decorative stones.
Paper Flowers
If the words "paper flowers" make you think of a grade school craft project, you've got some catching up to do. Paper flowers range from sophisticated art works that are difficult to tell from real flowers to fun decorations. Although creating paper flowers that you want to display at your wedding can be time consuming, it can also be a fun activity. Paper flowers are non-allergenic and unlike real flowers are long lasting.
One final note: it's hard to match the elegance and beauty of real flowers and a professional florist can also help with other decorating needs. If you like the idea of one of these alternatives, consider combining it with more traditional flowers for a truly stunning effect.
EVEN MORE
Extraordinary wedding style
When wedding planning, you often see the same ideas, themes and styles over and over again. If you are looking for something unique for your wedding reception, we have the answers. We asked eight event experts and wedding planners to tell us about unique things that they have seen at weddings lately. Check out their answers for some extraordinary wedding ideas.
Cocktail lounge reception
"We recently did an all cocktail hour wedding mixed with a short ceremony. We did the ceremony and then right into a wonderful cocktail style party with mixed seating such as lounge furniture and different table configurations with heavily passed foods and some stationary food stations.
We also brought in a photographer that took photos of the guests while they were partying and we projected the photos on a big white wall at the same time…people love to watch themselves have a great time!!"

Something old
"Rather than just displaying old photos, I love using old family wedding photos for place card décor or even better, incorporating them into cute table numbers that are totally personal. It even gives guests a reason to move from table to table checking them all out — thus creating a sort of 'mixer' for people that don't know one another. It also saves money on having to pay for additional décor or print goods for these items."
A second dress
"The bride changing into the second dress of the evening — a stunning white mini-gown. After the ceremony and the grand entrance, the bride changes into a short party dress — white, lacy, beaded and high-end so that she still looks very much like the star. Marchesa is known for these short dresses, paired with Christian Louboutin shoes."
Jumbo desserts
"Rolling table side desserts (old school) like banannas flambe or Baked Alaska. These gueridons can be rolled around the room. Also desserts that are JUMBO. Like jumbo Ring Dings, jumbo Twinkies, etc."
Olive oil favors
"Olive oil wedding favors! The grandparents of the couple produced the oil in Italy. The bottles had special labels on them. We also served it at the guest tables instead of butter. It was elegant and personal."
Keepsake booklets
"Table numbers that are also a small booklet where guests at each table can write a note to the bride and groom. A collection of all the booklets makes for a great keepsake."
Sports inspiration
"I was recently at a wedding of a bride and groom that loved sports and whose first date was at a baseball game. They incorporated little things such as ticket stubs as their escort cards, signature drinks for different teams, and for an 'after party' touch. They passed out roasted peanuts and Coney hot dogs from a restaurant they love in the Detroit area. Very simple, very sweet and very them — and that is what makes the wedding unique."

Spectacular finds
"One of our brides had an uncle who is an interior designer. He had a brilliant idea of creating a chandelier out of an old (but working) traditional brass chandelier that he draped in a vintage wedding dress. It was stunning and spectacular! It just goes to show with a few tag sale finds and some creativity, you can create something totally original and unexpected!"